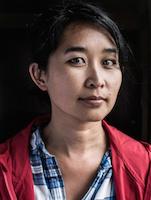 On Tuesday, Nov. 9, author and illustrator Thi Bui gave an emotional and insightful public talk about her best-selling, critically acclaimed graphic memoir, "The Best We Could Do" (2017), focusing on her creative process and its role in working through questions about her identity as a Vietnamese immigrant.
The event capped a semester of studying coming-of-age memoirs focused on identity and mental health in the introductory honors course, COM 370 Life of the Mind. Unlike other books in the class, Bui's memoir was the only work of graphic nonfiction. What also made the book stand out was the substantial attention it gives to her parents' coming-of-age and how understanding them helped her understand herself as a minority and immigrant in the United States.
Her talk was as vivid, intimate and profound as her work. Sharing images of the book throughout, Bui started by explaining that she told this story of her parents, and their escape from war-torn Vietnam, out of curiosity and the desire to know more about herself. In her talk, she said that as a child she often felt like her only sense of identity came from what she was not. But stories, she said, put her in a different space.
"With stories you can say who you are rather than what you are not," she said.
She also focused in her talk on the images in her book, which are quite literally the main focal point. Using slides taken from the book, sometimes supplemented by drafts and earlier iterations of the published versions, Bui explained how her storytelling often started with a visual rendering of what was stuck in her head in order to find an "emotional truth."
Many students outside the honors program attended the talk, including those affiliated with the Center for East Asian Studies, a co-sponsor of the public event. Prior to the public lecture, however, students in the Moody Honors Program got some separate time with the author when she visited the Life of the Mind class.
Students had just finished reading and discussing the book and had so many interesting questions that Bui stayed an extra 20 minutes, offering thoughtful responses and showing genuine interest in the students and their concerns.
The "Best We Could Do" (2017) has won an American Book Award, was named a National Book Critics Circle finalist, and has been adopted by many colleges and universities for freshmen and common reading lists. Bui is currently researching and drawing a work of graphic nonfiction about immigrant detention and deportation, to be published by One World, Random House.
A veteran illustrator, Bui's short comics can be found online at The Nib, PEN America, and BOOM California. She is a contributor to "Refugees Anthology" and illustrated "A Different Pond," a 2018 Caldecott Honor Book. She has also co-illustrated, along with her son, the children's book "Chicken of the Sea," written by Pulitzer-winning novelist Viet Thanh Nguyen and his son.
More about her work and career can be found at her website, where you can also learn the proper pronunciation of her name.
This semester, students in Life of the Mind also read, discussed and wrote about four other memoirs from a diversity of backgrounds and perspectives: "Diary of a Young Naturalist," by Dara McAnulty; "Between the World and Me," by Ta-Nehisi Coates; "Educated," by Tara Westover; and "The Undocumented Americans," by Karla Cornejo Villavicencio. The class is dedicated to fostering critical discussion and self-reflection about important issues in communications and society.