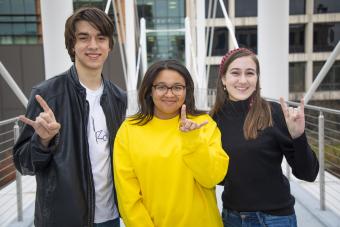 About Us
---
We're on a quest. A quest to answer the most pressing issues of communication and society. And we believe it all starts with a diverse, inter-disciplinary, and intellectually curious community that encourages exploration, critical reflection and independent work.
Small Community
Compared to many other honors programs, ours is relatively small, highly supportive, and deeply committed to community engagement and service. One of our foundational classes, in fact, is called "Life of the Community" and one of our seminars focuses on community engagement and service learning.
While meaningful community must also be given freedom to grow organically, the program creates the conditions to make that happen. Our deeply engaged and compassionate Honors Student Council provides input to to faculty and administrators, organizes social events and service activities, advocates for diversity and inclusion and operates a peer-guide network to acclimate new students to life in Moody Honors and on the 40 Acres.
Big Ideas
The centerpiece of the program is the 15-hour curriculum designed to supplement the degree programs of any Moody College major. Offering a balance of structure and flexibility, our curriculum has three stages:
Stage 1: Foundations. In students' first year, two foundational classes devoted to critical thinking and community building.
Stage 2: Explorations. In students' second and third years, a choice of small, special-topics seminars from a menu of important and innovative topics.
Stage 3: Capstone. In students' senior year, a choice of capstone projects to build on their honors experience and prepare them for the next step in their life's journey. These options include: a) a two-semester traditional academic thesis, b) a one-semester professional, creative, or community engagement project, or c) a personal reflection essay and third seminar.
To foster a community of engaged thinkers and doers at every stage of the curriculum, the honors program hosts special lectures and events each semester with leading authors, communication professionals and scholars.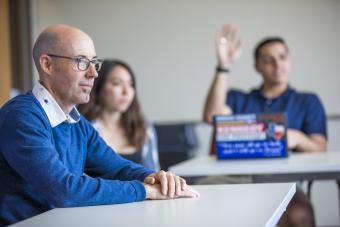 Honors Director
---
Dr. Dave Junker has been honors director since 2010. He helped develop the current four-year program and now teaches the introductory course, Life of the Mind. He is a winner of the Moody College of Communication Teaching Excellence Award and the University of Texas System Regents' Outstanding Teaching Award.
Honors Program History 
This program is based on a tradition of honors education in the College of Communication that began more than 30 years ago with Senior Fellows, a two-year program reserved for exceptional juniors and seniors. In 2018, the program was expanded and improved to accommodate first and second-year students and to support independent research and projects.  The Moody College Honors Program builds on a foundation of honors education based on the simple belief that talented, motivated and intellectually curious students will excel in an environment of open discussion and the free exchange of ideas.