Spring 2019 Communication and Leadership Speaker Series
#What Now: Pressing Forward in the Workplace
CNN "New Day" Co-Host Alisyn Camerota and Press Forward leaders, Dianna Pierce Burgess and Carolyn McGourty Supple, joined us for a discussion of the
#MeToo
movement and how to make workplaces safe, civil, and equitable.
---
Spring 2018 Communication and Leadership Speaker Series
Carol Williams: Leading Positive Change
In February 2018 we welcomed Carol H. Williams who gave a talk about her experience as a leading professional in the advertising industry.
She is the CEO and chief creative officer of Carol H. Williams Advertising (CHWA), a multicultural advertising agency that has continued to push the boundaries of marketing by asking the question, "Whose eyes are you looking through when you view the world?"
The newest inductee of the Advertising Hall of Fame, Williams is the genius behind some of time's most memorable ads including the timeless Secret antiperspirant campaign "Strong Enough for a Man, But Made for a Woman", the highly successful Pillsbury frosting campaign "Paper Knife", and the iconic Pillsbury campaign "Say Hello to Poppin' Fresh Dough."
---
Ronnie Robinson: Leading Positive Change
On April 11, 2018, alumnus and former captain of UT Austin's football team Ronnie Robinson spoke about the leadership lessons that he learned in sports, and lessons he learned as an international sales executive for EDS. He was drafted by the NY Jets but was injured and never played. While recuperating, Robinson started a business that he sold to EDS, where he ultimately worked for a number of years.
He is currently working as the founder of the non-profit Sports Academic Center, whose mission is to partner athletics and academics through mentoring and tutoring.
---
Inaugural Communication and Leadership Speaker Series
Chancellor William H. McCraven
On February 21, 2017,
The Moody College of Communication
hosted
UT System Chancellor William H. McCraven
for the inaugural event of the
Communication and Leadership Speaker Series
.
The speaker series is the public showcase event of the new
communication and leadership degree program
in the Moody College of Communication. Launched in 2016, it is an interdisciplinary program that seeks to educate and inspire future leaders to effect positive change in our complicated world.
Before McRaven (B.J. '77) was an admiral in the U.S. Navy, commander of the U.S. Special Operations Command and chancellor of The University of Texas System, he studied in the 
School of Journalism
.
At the event, McRaven spoke about the relevance and importance of communication and the unique role higher education plays in developing tomorrow's leaders.
In 1996, McRaven used his writing, communication and journalism training from Moody College to help author his book, "Spec Ops: Case Studies in Special Operations Warfare: Theory and Practice," cited as an insightful study of military engagement.
He delivered the keynote speaker at The University of Texas at Austin's spring commencement on May 17, 2014. His
speech
has since been viewed more than 4.2 million times.
"There is no one better to deliver the inaugural address of the Communication and Leadership Speaker Series than Chancellor McRaven," said Jay Bernhardt, dean of the Moody College of Communication. "One of our most accomplished alumni, he is a visionary leader whose career has spanned numerous sectors and served as a testament to the value of communication education. He serves as an role model and embodies the characteristics and competencies that we hope to instill in our students."
To view photos from the event, visit the Moody College of Communication
Flickr
page.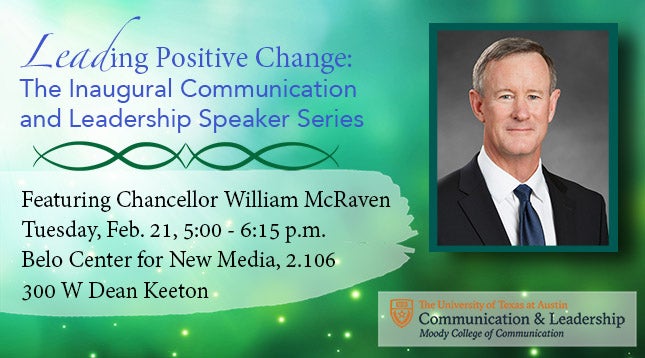 ---
On March 22, 2017, Miracle Foundation founder Caroline Boudreaux visited Moody College as part of the inaugural Communication and Leadership Speaker Series.
Boudreaux is founder of the
Miracle Foundation
, a nonprofit that has transformed the standards for orphanages in India since its inception in 2000. Before launching the Miracle Foundation, Boudreaux was a highly successful media salesperson. During a trip to India she visited an orphanage, which proved to be a transformative experience and led to her founding the organization.
Boudreaux's story of the creation and evolution of the Miracle Foundation included lessons related to leadership, communication and social change. After the event, Boudreaux met with Communication and Leadership students for a small group discussion.
To view photos from the event, visit the Moody College of Communication
Flickr
page.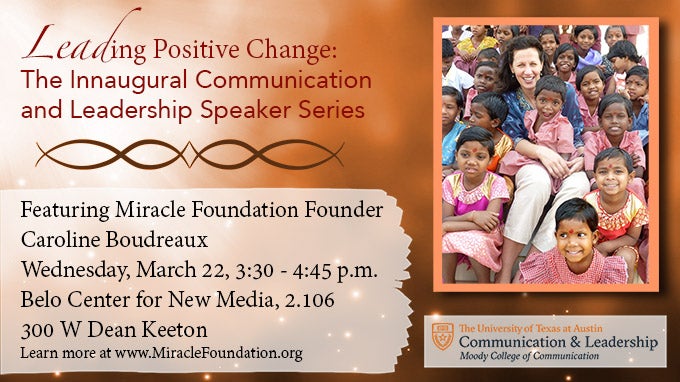 ---