Fall 2022 Events
Communication in the Nonprofit World
The Communication and Leadership Degree will formally launch the Communicating for Philanthropy and Development minor by hosting Dr. Patricia Parker for a talk on Wednesday, November 2nd at 11:00 - 12:00 in the Dean's Briefing Room (DMC 5.208).
Dr. Parker (Ph.D. University of Texas at Austin) is Director of the Institute for the Arts and Humanities, the Ruel W. Tyson Distinguished Professor of Humanities, and Professor in the Department of Communication at the University of North Carolina at Chapel Hill. From 2015-2021 she served as Chair of the Department of Communication and Director of the Graduate Certificate in Participatory Research (2017-2021).
Professor Parker's research is community-based and focused on communication for social justice. Her work is driven by questions about discourses that influence whether and how people have the capacity to engage each other's humanity to work toward positive social change. She is interested in understanding the communication processes that can block or fuel that capacity in a particular community or organization, especially where there is unequal power. The author of two books and dozens of articles and book chapters exploring the intersections of race, gender, leadership, and power, her most recent book is Ella Baker's Catalytic Leadership: A Primer on Community Engagement and Communication for Social Justice, published in 2020 by the University of California Press.
A scholar activist, Dr. Parker has advanced social justice leadership in a variety of organizational contexts. As the inaugural Director of Faculty Diversity Initiatives for the College of Arts and Sciences at UNC-Chapel Hill, she developed the Diversity Liaisons program, catalyzing a network of critically engaged faculty leaders working for equity and inclusive excellence in their respective departments. She also helped to establish the Triangle Women in STEM Network, a women-led organization catalyzing diverse voices to advance women in STEM careers. In 2007, Dr. Parker founded The Ella Baker Women's Center for Leadership and Community Activism, a community-based not-for-profit supporting girls' and women's leadership development. She currently serves as co-chair (with Dr. Jim Leloudis) of the University Commission on History, Race, and a Way Forward. Parker's next projects will follow from her work as co-chair of the commission. Her next projects will follow from her work as co-chair of the University Commission on History and Race at UNC-Chapel Hill and their partnership with the Universities Studying Slavery Consortium.
Date: Wednesday, November 2nd
Time: 11:00 - 12:00 pm
Room: DMC 5.208 (Dealey Center Dean's Briefing Room)
Spring 2021 Speaker Series
Leading Positive Change: Social Entrepreneur Leadership
Guests include:
JANE HERVEY
Originally from the small town of Rio Hondo, Texas, Jane Hervey (she/her) is a creative director, entrepreneur and recording artist, living and working in Austin, Texas. She is the founding director of bbatx, and actively designs communication strategies and experiences for other arts and entertainment organizations, nonprofits and creative start-ups.
XOCHI SOLIS
Xochi Solis (she/her) is a mixed media artist born and raised in Austin, Texas. Her works include multilayered, collaged paintings constructed from paint, hand-dyed paper, vinyl, plastics, and images from found books and magazines. As an accomplished artist and leader in her community with over 15 years of experience, Solis is enthusiastic about continuing to transform her practice as a cultural producer into a vehicle for active citizenship and civic responsibility.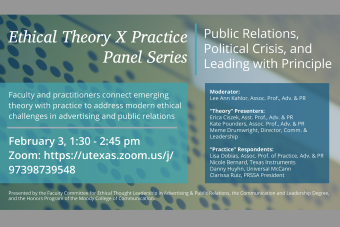 Ethical Theory X Practice Panel Series: Public Relations, Political Crisis and Leading with Principle
Moderator:
Lee Ann Kahlor, Associate Professor in Advertising and Public Relations
"Theory" Presenters:
Meme Drumwright, Associate Professor in Advertising and Public Relations, Director of Communication and Leadership Degree
Kate Pounders, Associate Professor in Advertising and Public Relations
Erica Ciszek, Assistant Professor in Advertising and Public Relations
"Practice" Respondents:
Lisa Dobias, Associate Professor of Practice, Advertising and Public Relations, Director of TexasMedia sequence
Nicole Bernard, Public Relations Manager for Texas Instruments, ADV alumna ('13)
Clarissa Ruiz, current student, Public Relations, PRSSA President
Danny Huyhn, Universal McCann, SVP Client Business Partner, BMW Brand Lead, ADV alumnus
Spring 2019 Speaker Series
#What Now: Pressing Forward in the Workplace
CNN "New Day" Co-Host Alisyn Camerota and Press Forward leaders, Dianna Pierce Burgess and Carolyn McGourty Supple, joined us for a discussion of the #MeToo movement and how to make workplaces safe, civil, and equitable.
Spring 2018 Speaker Series
Carol Williams: Leading Positive Change
In February 2018 we welcomed Carol H. Williams who gave a talk about her experience as a leading professional in the advertising industry. She is the CEO and chief creative officer of Carol H. Williams Advertising (CHWA), a multicultural advertising agency that has continued to push the boundaries of marketing by asking the question, "Whose eyes are you looking through when you view the world?"
Ronnie Robinson: Leading Positive Change
On April 11, 2018, alumnus and former captain of UT Austin's football team Ronnie Robinson spoke about the leadership lessons that he learned in sports, and lessons he learned as an international sales executive for EDS. He was drafted by the NY Jets but was injured and never played. While recuperating, Robinson started a business that he sold to EDS, where he ultimately worked for a number of years.
Chancellor William H. McCraven
On February 21, 2017, The Moody College of Communication hosted UT System Chancellor William H. McCraven for the inaugural event of the Communication and Leadership Speaker Series. At the event, McRaven spoke about the relevance and importance of communication and the unique role higher education plays in developing tomorrow's leaders.
Caroline Boudreaux
On March 22, 2017, Miracle Foundation founder Caroline Boudreaux visited Moody College as part of the inaugural Communication and Leadership Speaker Series. Boudreaux is founder of the Miracle Foundation, a nonprofit that has transformed the standards for orphanages in India since its inception in 2000. Before launching the Miracle Foundation, Boudreaux was a highly successful media salesperson. During a trip to India she visited an orphanage, which proved to be a transformative experience and led to her founding the organization.