Fall 2021 Speaker Series
Identity, Reputation, and the Discomfort of Progress
Please join us for a talk with Aba Blankson, Chief Marketing and Communications Officer of the NAACP. Ms. Blankson will lead a lecture and discussion of brand transformation and the journey to repairing an organization's reputation ethically and effectively.
Joining the discussion will be a panel of students and faculty:
Madison Brown, PR student
Brynna Boyd, CLD student
Giovanni Sanchez, ADV student
Dr. Natalie Tindall, Director, School of ADV & PR
Dr. Meme Drumwright, Director, Communication & Leadership Degree
Immediately following Ms. Blankson's lecture, Giovanni Sanchez and ADV/PR students will lead an Empower Hour with Ms. Blankson from 12:15 to 1:00 p.m. CST. All are welcome.
Virtual: https://utexas.zoom.us/j/99187162515
In-person: RSVP here to attend in-person and receive a free sandwich lunch!
Spring 2021 Speaker Series
Leading Positive Change: Social Entrepreneur Leadership
Guests include:
JANE HERVEY
Originally from the small town of Rio Hondo, Texas, Jane Hervey (she/her) is a creative director, entrepreneur and recording artist, living and working in Austin, Texas. She is the founding director of bbatx, and actively designs communication strategies and experiences for other arts and entertainment organizations, nonprofits and creative start-ups.
XOCHI SOLIS
Xochi Solis (she/her) is a mixed media artist born and raised in Austin, Texas. Her works include multilayered, collaged paintings constructed from paint, hand-dyed paper, vinyl, plastics, and images from found books and magazines. As an accomplished artist and leader in her community with over 15 years of experience, Solis is enthusiastic about continuing to transform her practice as a cultural producer into a vehicle for active citizenship and civic responsibility.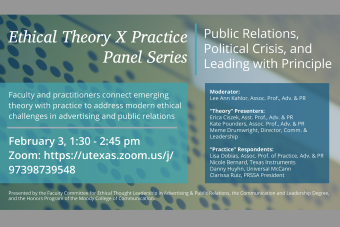 Ethical Theory X Practice Panel Series: Public Relations, Political Crisis and Leading with Principle
Moderator:
Lee Ann Kahlor, Associate Professor in Advertising and Public Relations
"Theory" Presenters:
Meme Drumwright, Associate Professor in Advertising and Public Relations, Director of Communication and Leadership Degree
Kate Pounders, Associate Professor in Advertising and Public Relations
Erica Ciszek, Assistant Professor in Advertising and Public Relations
"Practice" Respondents:
Lisa Dobias, Associate Professor of Practice, Advertising and Public Relations, Director of TexasMedia sequence
Nicole Bernard, Public Relations Manager for Texas Instruments, ADV alumna ('13)
Clarissa Ruiz, current student, Public Relations, PRSSA President
Danny Huyhn, Universal McCann, SVP Client Business Partner, BMW Brand Lead, ADV alumnus
Spring 2019 Speaker Series
#What Now: Pressing Forward in the Workplace
CNN "New Day" Co-Host Alisyn Camerota and Press Forward leaders, Dianna Pierce Burgess and Carolyn McGourty Supple, joined us for a discussion of the #MeToo movement and how to make workplaces safe, civil, and equitable.
Spring 2018 Speaker Series
Carol Williams: Leading Positive Change
In February 2018 we welcomed Carol H. Williams who gave a talk about her experience as a leading professional in the advertising industry. She is the CEO and chief creative officer of Carol H. Williams Advertising (CHWA), a multicultural advertising agency that has continued to push the boundaries of marketing by asking the question, "Whose eyes are you looking through when you view the world?"
Ronnie Robinson: Leading Positive Change
On April 11, 2018, alumnus and former captain of UT Austin's football team Ronnie Robinson spoke about the leadership lessons that he learned in sports, and lessons he learned as an international sales executive for EDS. He was drafted by the NY Jets but was injured and never played. While recuperating, Robinson started a business that he sold to EDS, where he ultimately worked for a number of years.
Chancellor William H. McCraven
On February 21, 2017, The Moody College of Communication hosted UT System Chancellor William H. McCraven for the inaugural event of the Communication and Leadership Speaker Series. At the event, McRaven spoke about the relevance and importance of communication and the unique role higher education plays in developing tomorrow's leaders.
Caroline Boudreaux
On March 22, 2017, Miracle Foundation founder Caroline Boudreaux visited Moody College as part of the inaugural Communication and Leadership Speaker Series. Boudreaux is founder of the Miracle Foundation, a nonprofit that has transformed the standards for orphanages in India since its inception in 2000. Before launching the Miracle Foundation, Boudreaux was a highly successful media salesperson. During a trip to India she visited an orphanage, which proved to be a transformative experience and led to her founding the organization.